A united and well-functioning team is a company's most valuable asset. Outstanding performance is achieved as a result of the commitment and dedication among professionals and like-minded employees. Only those who feel happy and motivated in their team make a significant contribution to the company's success. If people are affected by a poor work environment, they lose their genuine connection to the company. When two-thirds of the week is spent at work, the main motivating force for the employee comes from the very enjoyment of work and time spend with their team. Thus, a team spirit is built on a combination of human and professional qualities.
The stressful daily life at a young startup, where everything is created from scratch, where there are no fixed structures, and where things are often very chaotic, can be disorienting at first glance. However, we believe that this deceptive unpredictability can be saddled and turned to your advantage, especially if working in such a startup has significant advantages.
What makes VOO so special?
When a company is just starting out, there is often a shortage of manpower, and an important step here is to build a team where colleagues get along well with one another and support each other. Only in this way can we achieve great things together.
For us at VOO, trust in our employees is one of the most important work approaches. We don't control our people but evaluate their performance and make sure to give them relevant feedback in time. We practice leadership instead of management, which builds a foundation for collaborative communication, a healthy exchange of ideas and trust. We give our team members the feeling that they can make a difference, that they are listened to, and that their ideas are important. This approach has proven effective in building strong long-term partnerships and has been vital in strengthening the innovative capacity of our team.
In today's office culture, regular team building events are designed to enhance a sense of togetherness and team spirit, as well as increase motivation and thus have a positive impact on productivity. The most popular and effective team-building events are those that take place outside the office and therefore create authentic experiences. In VOO we proudly go above and beyond each time we organize unforgettable events for our VOOcrew. Our events are designed to build trust and unity in the team and our people' identification with our company, which in the long run increases our communication among each other and motivation of each team member. At VOO, we enjoy spending time together both during working hours and organized events.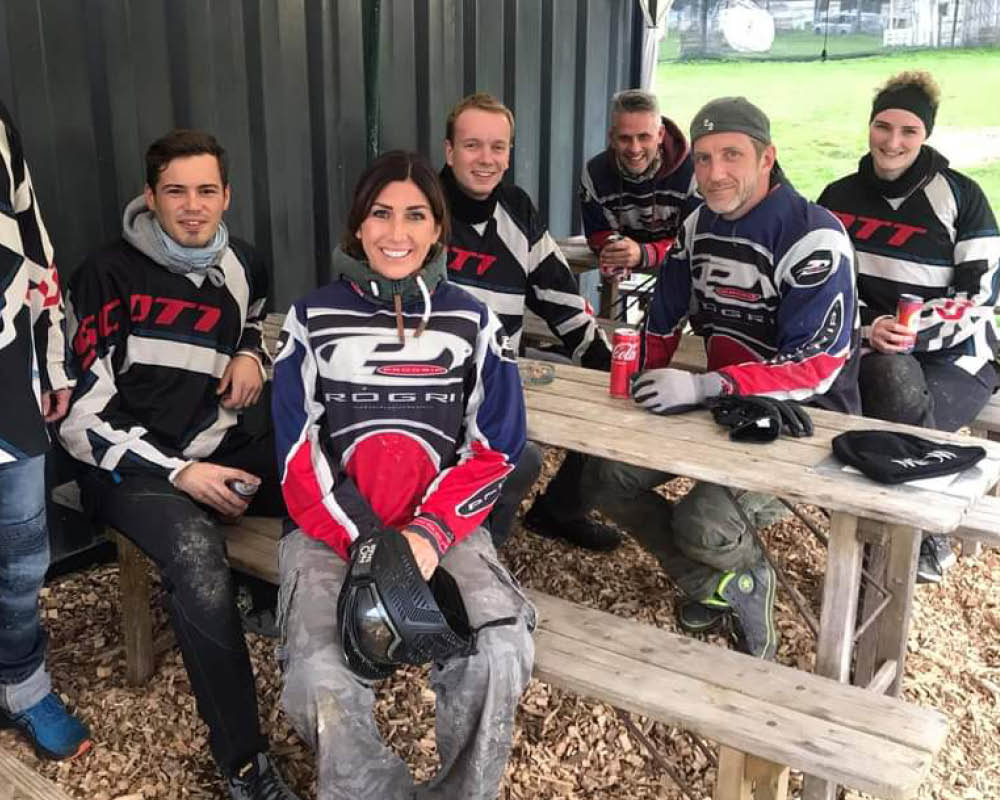 Furthermore, we never forget our colleagues' birthdays and celebrate them in the office all together. On their birthdays, each team member gets a special piñata that needs to be broken down in order to find a hidden present from the team. Word has it that even those VOO members who used to take a day off for their birthday more often now choose to have a joyful office day together with the team.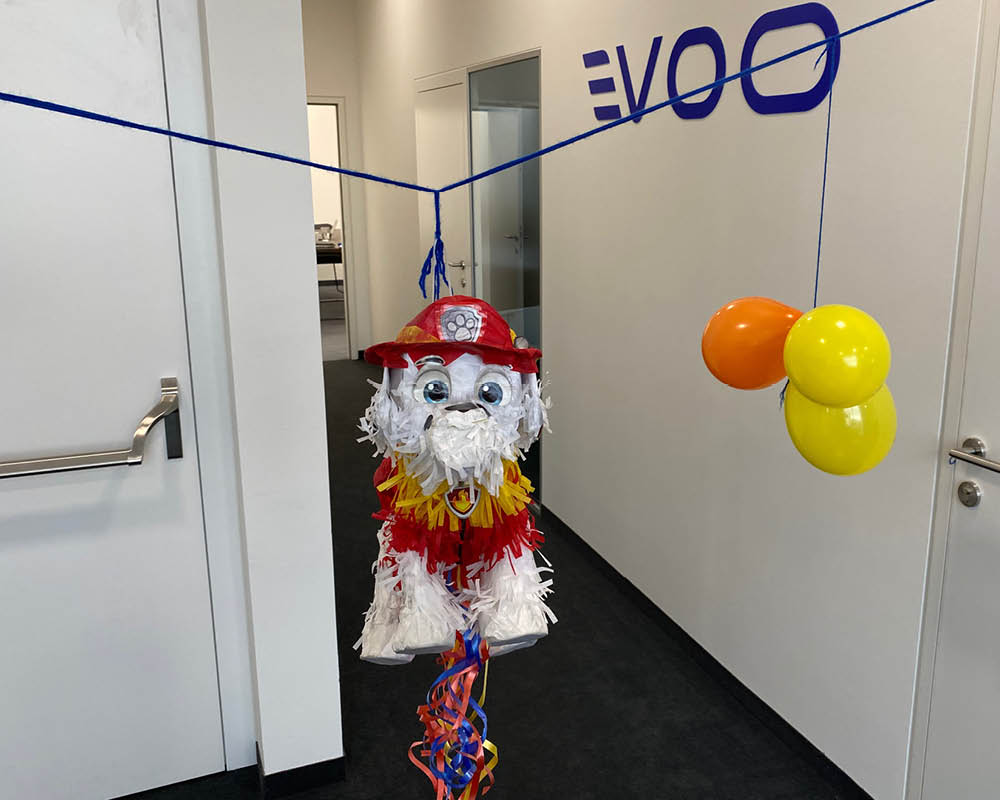 We make sure that all VOO team members enjoy their work and thus enjoy life. At VOO, we know for a fact that happy employees are a win-win situation!
However, this doesn't mean that the work comes second; it just emphasizes the harmony of the whole process. We still have clear rules: daily meetings and Retro (stands for retrospectives) are an obligatory part of the program, because we want to constantly develop and improve, which we also ensure through regular feedback meetings.
In our team, we cultivate an important sense of unity and invest in increasing the inner motivation of each team member through direct and open communication. We believe that the different complementary skills of individual team members are enriching – they lead to our common goal.
They say that daily fresh fruit and a ping-pong table aren't particularly important when the atmosphere at work leaves much to be desired. Certainly, trusting dialogue, polite communication and joint goals can't be replaced by free coffee and cookies. And yet, when our office is packed with a happy team which enjoys working and communicating with each other, some fruit won't be out of place, either. Benefits such as food and beverages will be an important supplement to our daily work – our VOOcrew has a credit card and is free to fill the fridge as desired.
Good organization and the work "under the eye-service" are two very different things. That's why we encourage our people to use their creative breaks at work whenever needed. In our office you will discover dart boards, nerf guns, a ping-pong table, among other cool items. A pause recuperates energy and increases productivity, and if you don't take a break, your brain activity will decrease, and concentration will drop. It's not a good idea, especially when it comes to work that requires concentration and great attention to detail. For example, in software development. That's why our software engineers especially enjoy short breaks with nerf guns, which relieve stress, unload the brain, and give the whole team a good laugh.
At VOO, we welcome dogs into the office with open arms. The trend for dogs in the office came from IT startups in the US and Australia. Companies were short of money but had plenty of work to do. So, to motivate employees to stay at work longer, their four-legged friends were allowed at the office. Modern studies of work culture proved that the presence of a dog in the office improves the psychological climate, trust within the team members, and makes the atmosphere more relaxed and friendly. This is especially relevant in the open-space offices, where people generally tend to feel noticeably out of place. Also, dogs help people to cope with distress and dog owners who can take their pets to work show higher productivity. When dogs Belsy, Loki and Benji joined our VOOcrew in the office, everyone confirmed this was a great idea.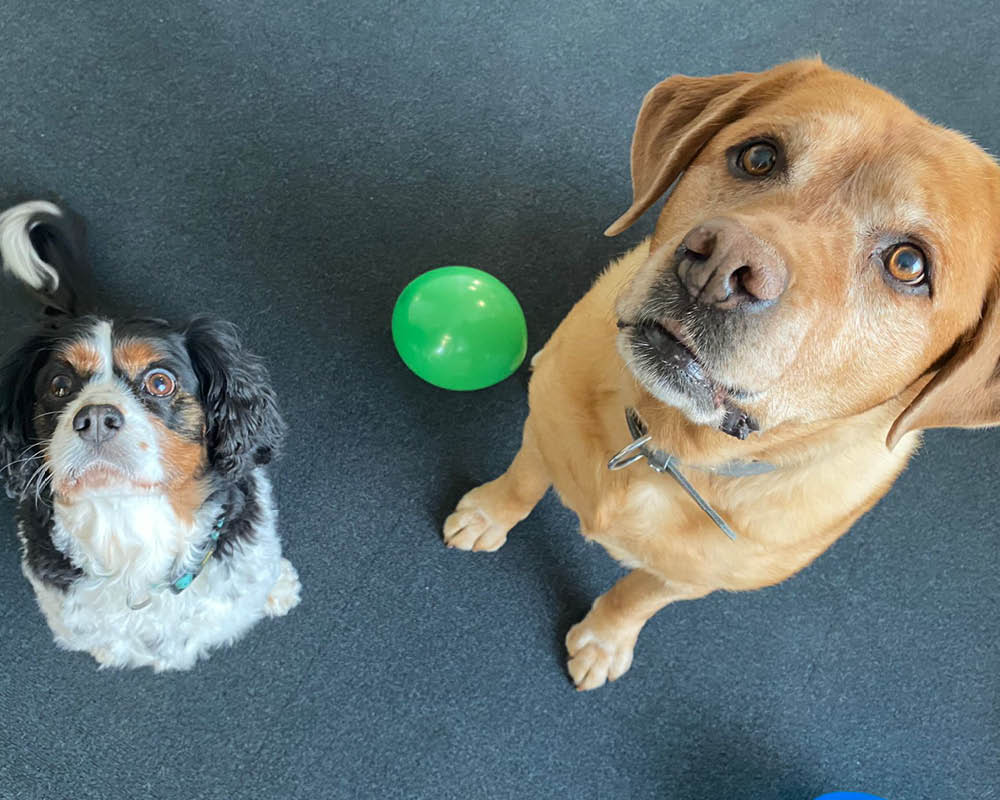 One of the recently introduced benefits that our new team members are excited to try out is Workation. VOO is happy to give every employee one fixed week a year to work from anywhere in the world. Would you like to try that?
Motivating, encouraging and challenging our employees is a day-to-day task at VOO. We are proud of our team and look forward to welcoming new colleagues.
---
LOOKING FOR A NEW CHALLENGE?
JOIN OUR TEAM!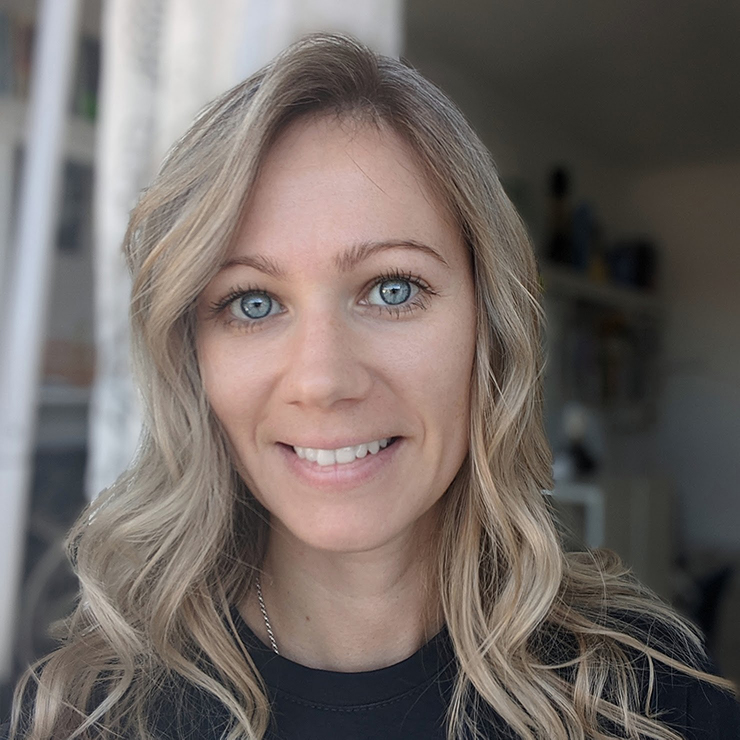 Ivanna is a professional journalist and communications specialist; she channels her creative energy and passion for words to shape outstanding cross-media stories for VOO and the industry's vibrant media. Ivanna holds a master's degree in journalism and a professional development certificate in science communication.